So lately......this is how Kennedy has felt about going potty: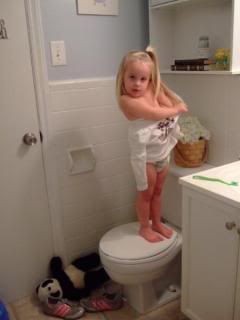 *Please note all the lovely things on the floor!! My oh my someone needs to clean up this bathroom!!



So....being a bit burned out with the potty thing, I decided that yesterday would be a great day for pull-up's and Santa! =) But first before we headed out I knew I needed to get the girls to strike a pose for me!
Here's the Kennyboo! It's a good thing she's so cute because these days her looks are all she has going for her! Please take note of chocolate on her face. Yummy. =)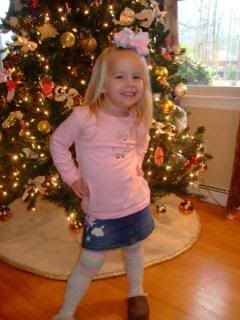 And here is my sweet Hopie who many of you prayed for! What a blessing it is at Christmas to have a happy AND healthy girl!
And here is Taylorbug. Girly had a bit of needing to "lose the tude" yesterday. I'm afraid she's "over" the whole Santa thing and therefore feels the need to ruin it for her sissys! We had a serious "talk" about this! I don't like this phase of motherhood where they start "fading" to the side of unbelief!
What a great Christmas pose this would've been!! =) Please take note of squinchy face. LOVELY.
The girls had some gift cards to use up from their birthdays. (Amen for gift cards!) So we headed to build a bear first. The girls had a blast making their bears but I couldn't help but laugh because they looked at me like I had LOST my mind when I "informed" them they didn't have enough on their gift cards for "accessories". They are so used to going with my mom who....ahem......buys them whatever their little hearts desire...so they were in SHOCK to go there and not walk out with everything they wanted. It was a good "learning" lesson.
Then it was time to meet up with Kris and two of my very best friends, their kids and husbands to go see the Jolly Ol man Ho HO HO. Kennedy was SOOOO excited! I thought surely she would give Santa a run for his money but she marched right up there and sat on his lap!
I had been "coaching" Kennedy on what to tell Santa she wanted. We had already bought her a new kitchen since the one we have is falling apart just a bit, so every day I've said, "Kennedy, you tell HO HO HO that you want a Kitchen Ok?" "Otay."
"Mommy.....I tell Swanta I want a Kitchen....Otay?" in her robot tone! =) Notice squinchy smile again.....don't know what's up with that!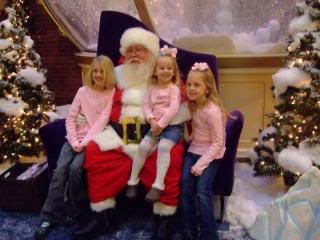 I LOVE This picture of them all whispering to Santa what they want!! It was soooo cute!
After that we headed to the food court for some ol fashion food court caroling......not really, but they did sing mighty loud! It was a fun night!
While we were driving home, Kennedy and I had a very sweet but sad conversation it went much like this:
"Mommy....Swanta no say Merry Christmas."
"He didn't? Oh no, maybe he forgot."
"Mommy......Ho Ho HO no say Ho Ho HO."
"He didn't do that either? I'm sorry kennyboo."
"Mommy....maybe he no wove me. Cuz I no make him a cward."
"No, Kennedy, he loves you, he just forgot!"
"Otay....maybe we should ask Jesus for a Kitchen. He woves me."(starts singing Jesus loves me)
Awe.......the sweetest days! =)