So...how was your Turkey Day?

Ours was good. We went up to see my mom and dad in Asheville and then came home and did the whole thing over again with Kris's side of the family! Let's just say there's been too much eating going on this past week! Phew!

Before we got to my mom and dad's, mom called and wanted to see if we wanted to meet them at the Grove Park Inn to check it out and the gingerbread competition that they had there.

I have never been to the Grove Park Inn and it was beautiful!



I'd love to go back there (with no girly's) and stay. It looks very cozy and relaxing!! Ahh.....what I would give for that at the moment. (*cue screaming girls EVERYWHERE right now ugh...)
Don't know what happened to this picture, it's very blurry. But this is the big fireplace in the lobby. Had I thought better this would've made a great Christmas picture. But anyone that knows me knows I've got to have them all matching for Christmas poses! Which is surely to be a challenge this year with Taylor needing her "own" style. We might just have to be "co-ordinated".

Then it was time to check out the gingerbread houses and there were so many to see! I would love to sit here and upload more pictures but my computer is acting a bit psychotic...much like my children at the moment.
Again......don't know what's wrong with this picture! But, the details were amazing on these houses. Loved it all!!
This is a very special picture below!! HopeAnn has ONLY asked for a doll house for Christmas. Despite the fact that we have oh......ten "houses" for dolls, barbies and such...she really wants a "real" one. This gingerbread house captured my heart when I saw it and I thought.....that would make a really great doll house.
Well....after we got home on Friday I had some coupons and knew I at least had to "try" to get one of these houses. They are normally anywhere between $120-$150, and that doesn't include all the "stuff" that goes inside.
Long story short....Kris ended up getting one that will look exactly like this for $60!! I was SO pumped! Now.....I don't know if I will be "so pumped" when we start working on this thing, which will need to be this week sometime. But I hope it makes her heart smile!
After all that looking we decided we'd better head back to the Mimi's house and have our OWN competition! And what a competition we had.
This was hard.......no kits. We had graham crackers and tons of candy and frosting of course. The *KEY is using confectioners sugar to hold the house together. I say this like I'm some gingerbread pro....oh my word. =)
So it was me and Hopie against the Taylor and daddy.
This was our result......pretty good I thought!
And this was their result. NOT that it "needs" to be explained because it's "so obvious".....well, ok not really. I'll let you guess for a second.........


It was a foot-ball stadium! I think they cheated a wee bit, but that's just between you and I.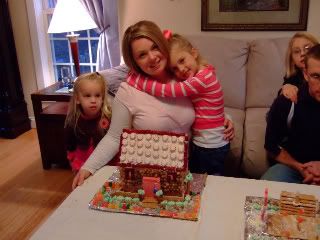 Don't they look a little sneaky like on their faces??? Kennedy's "job" was to test ALL the candy. Just to "make sure" it was real. =)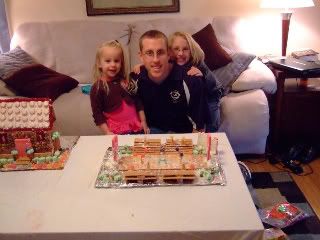 So of course Hopie and I won. After all this is MY blog.
Saturday was round 2 of turkey day with Kris's family. His cousin was in town with their two kiddos who are Taylor and Kennedy's age so the kids had lot's of fun! I would post pictures, but I always feel funny posting pictures if I don't know how they feel about it. But they put on some good "shows" for us that had us laughing until we hurt!
Today we put up our tree and I've just been in a blah Christmas mood. Like...I don't even care what my tree looks like this year!! I've NEVER been this way.
I think a lot of things have me down right now. Mainly the fact that most likely our girls won't be returning to their school next year. Kris and I had a lot of time to talk on the way up and back to Asheville and as much as it breaks our hearts, we just don't think we can continue to leave them there. Oh that makes my heart sink just writing that.
You know......obedience is hard. We moved here to this tiny little old house to be able to keep our girls at their school. But it's just gotten harder and harder. Between Kris and I, we now hold three jobs, sometimes four =), and it's just not working. But maybe we're missing something. But so far, I haven't got the foggiest idea as to why the Lord has put us in this house.
The one thing I've always prayed is that if they were supposed to stay at their school that God would just continually provide. But, I have to say, it's the one thing we are struggling each month to pay with two there now. I can't even imagine what it will be like when Kennedy starts....which isn't to far off.
We have some ideas......but we are praying so hard that God would show us exactly what to do. Nothing has been a clear yes or a clear no.
If you think to pray for discernment for us, it would be much appreciated!!!
These next few weeks are going to be a little stressful but also exciting. I've got my first "production" (ha ha) with the pre-schooler's. We are doing a little Christmas program that I HOPE turns out great. You never know!! BUT, We've been working very hard!
Well......how are things for you? I hope you all had a great thanksgiving and I look foreword to catching up with everyone soon! Have a great night and awesome week!